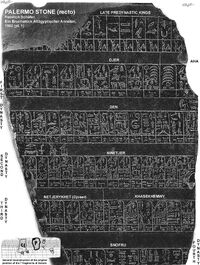 The Cairo Annal Stone stone is part of a series of fragments which show the year by year reign of a Pharaoh, created in the 5th Dynasty to record Egypt's earliest kings though it excludes Merneith[1].
Cairo Annal Stone
Palermo Stone
Known sections of the stone say:
Top Section
Second Line
Appearance of the King of Upper Egypt.[4]
Third Line
Appearance of the King of Lower Egypt. (Ḫˤt-bity) (Another theory for the Narmer Palette is that this is the event portrayed on its surface.[4]
Somewhere
Appearances of the king of Upper and Lower Egypt, which is possibly shown on a the tablet of King Den with double crown sat on a single dais.[4]
References
↑ 1.0 1.1 1.2 1.3 Tyldesley, J. (2006) The Complete Queens of Egypt Cairo: American University Press.
↑ 2.0 2.1 Dodson, A & Hilton, D. (2005) The Complete Royal Families of Ancient Egypt London: Thames & Hudson. ISBN 9774249577
↑ J. H. Breasted, Ancient Records of Egypt, Part One, Chicago 1906
Ad blocker interference detected!
Wikia is a free-to-use site that makes money from advertising. We have a modified experience for viewers using ad blockers

Wikia is not accessible if you've made further modifications. Remove the custom ad blocker rule(s) and the page will load as expected.