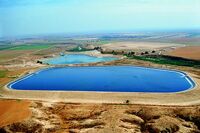 En-Besor is located in southern Israel.
Jar-stoppers have been uncovered here possibly with the names of king's or officials of the First or Second Dynasty, though these excavation may have been illicit.[1] And it is known that a First Dynasty 'residency' here was created to exploit the resources in this area. Pottery stylistically may show Hor-Aha started this, though partial preserved royal names may state a later date.[2]
References
↑ Amiran, R. (1974) An Egyptian Jar Fragment with the Name of Narmer from Arad Israel Exploration Journal. Vol.24 No.1 pp.4-12
↑ Wilkinson, T, A, H. (2001) Early Dynastic Egypt London: Routledge. ISBN 0-415-26011-6.
Ad blocker interference detected!
Wikia is a free-to-use site that makes money from advertising. We have a modified experience for viewers using ad blockers

Wikia is not accessible if you've made further modifications. Remove the custom ad blocker rule(s) and the page will load as expected.