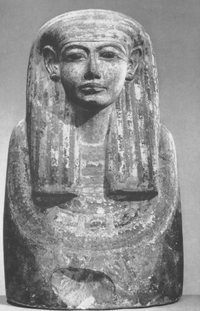 The Gallatin Bust (a type of Ancestral Bust) measuring 41.25cm in height gains its name from the collection it was once part of called the Gallatin Private Collection name after Albert Gallatin[1] Made from limestone it is also painted and may originally be from Thebes. It is thought to be depicted on a stela from Abydos of Henut.[2]
References
↑ Fischer, H.G. (1967) The Gallatin Egyptian Collection The Metropolitan Museum of Art Bulletin. New Series. Vol 25. No. 7
↑ Rosalind, M. and Janssen, J.J. (1996) Getting Old in Ancient Egypt London: Rubicon Press.
Ad blocker interference detected!
Wikia is a free-to-use site that makes money from advertising. We have a modified experience for viewers using ad blockers

Wikia is not accessible if you've made further modifications. Remove the custom ad blocker rule(s) and the page will load as expected.