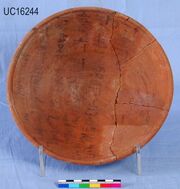 The Hu Bowl is a pottery bowl which contains a Letter the Dead on it found in Tomb Y84 at Hu dating to the First Intermediate Period, discovered by Petrie's assistant Arthur Mace during excavations in 1898-99, now housed in the Petrie Museum.[1]

The letter is from a woman to her brother 'The Sole Friend Nefersefki'.[1]
It reads:
Full attention! It is profitable to pay attention to the person whom you have favored on account of what is very wrongfully done to my daughter. I did nothing against him. I have not consumed his property. He has not given anything to my daughter. One makes funerary offerings to a spirit in return for interceding on behalf of the survivor. Settle then your account with him who does what is painful to me, for I shall triumph any dead man or woman who is acting against m daughter.[1]
References
Ad blocker interference detected!
Wikia is a free-to-use site that makes money from advertising. We have a modified experience for viewers using ad blockers

Wikia is not accessible if you've made further modifications. Remove the custom ad blocker rule(s) and the page will load as expected.