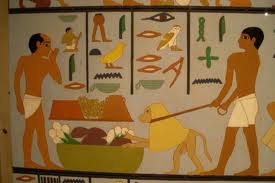 The Egyptians saw animals as incarnations of the gods and were one of the first civilizations to keep household pets. Egyptians were particularly fond of cats, which were associated with the goddess Bastet, but they also had a reverence for hawks, ibises, dogs, lions and baboons. Many of these animals held a special place in the Egyptian home, and they were often mummified and buried with their owners after they died. Other creatures were specially trained to work as helper animals. Egyptian police officers, for example, were known to use dogs and even trained monkeys (baboons) to assist them when out on patrol.
Ad blocker interference detected!
Wikia is a free-to-use site that makes money from advertising. We have a modified experience for viewers using ad blockers

Wikia is not accessible if you've made further modifications. Remove the custom ad blocker rule(s) and the page will load as expected.